Board of Directors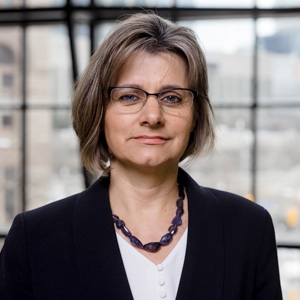 Director, Planning & Management
Fidelity Investments
Miriam Morris is a mother of two young girls (Julia, Sarah) and lives with her husband, Charles, in Mississauga. She is a financial services business leader, with over 25-year track record of delivering innovative solutions for Canadian and North American businesses and institutions. In her current role as Director, Project Management Office, at Fidelity Clearing Canada, Miriam is a member of senior leadership team with an oversight responsibility of the overall project portfolio and development of best practices for enabling business growth through solutions delivery. Miriam leads a team of project managers and consultants to execute on strategic priorities, collaborating with many partners in the context of continuous improvement culture and agile delivery environment.
In the last decade, Miriam spent several years in business development and professional services roles at Temenos, a global banking solutions provider, before returning to Fidelity Investments to help build out best practices at a recently launched business. In the earlier years of her career, Miriam developed a deep network of professional relationships through her work as a project and delivery manager in various business functions at major Canadian banks (RBC, TD, BMO).
Miriam is part of a Christian community in Mississauga, where she attends a local church with her family. Intriciti's fan and supporter since 2004, serving on the board for the last six years as Secretary, Miriam deeply cares about the business community and its hunger for God and more meaningful relationships where people can learn from each other's experiences. Miriam believes this is where the opportunity lies for the integration of faith and business to have life-changing impact on people she interacts with in formal, professional, but also personal encounters, conversations and meetings.